Communities around Australia are creating new Legacy Forests from the ashes and it is changing the way we leave the world as a nation.
View our current locations or register for information on upcoming Legacy Forests.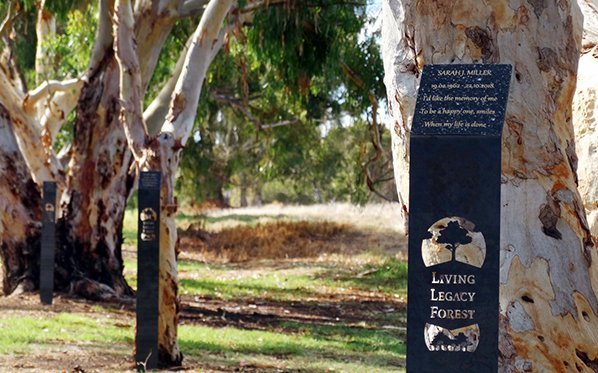 Bunbury- Wellington Legacy Sanctuary
Limited planting availability in Winter

Stand tall among the giant trees that grow over 30 metres tall. Join the community that is creating a creek front forest for the native Quokka and Black Cockatoo.
Planting options all year round
With Kororoit Creek running through it these managed gardens offer a selection of Native and European trees with perpetual care by the Greater Metropolitan Cemeteries Trust.
Planting options all year round
"Rolling Hills in the Yarra Valley"
This historic cemetery was formed in 1863 and is a tranquil natural environment managed by The Greater Metropolitan Cemeteries Trust.
Melbourne-Fawkner Memorial Park
[Planting options all year round]
"Stand tall in Melbourne's North"
111 hectares of established gardens founded in 1906 with perpetual care by the Greater Metropolitan Cemeteries Trust.
"Trilogy Botanic Sanctuary"
Starting in 2020!

Just an hour's drive from Melbourne's CBD, discover lush fern gullies, waterfalls and native wildlife all around.
Starting in 2020!

From Mornington Peninsula National Park Point Nepean, and French Island through to magnificent coastal and bush walks, woodlands, wetlands and unique coral reefs, the Peninsula is a nature lover's paradise.
Scott Creek- Legacy Sanctuary
Create a thriving native habitat for the native Bandicoot and birdlife.
For over 24 years Friends of Scott Creek Conservation Park have managed the area proclaimed as a conservation Park by National Parks and Wildlife South Australia.
Starting in 2020!
Currumbin is a beachfront community where the epic Currumbin Creek waterway links to the pristine rainforest mountains of the region.
Set amongst peaceful gardens, the facility is open 7 days a week and located across the road from North Ryde train station.
Bring your loved one's ashes to our upcoming planting day to plant your tree of choice with their ashes, in our collective forest designed for memorial trees.
This allows you to create a beautiful, living memorial tree in honour of your loved one. You can choose from one of the Living Legacy Tree Types suited to this forest area. 
Living Legacy Planting Days are celebrated with honour on one chosen day per year.
Turn your loved one's ashes into a Living Legacy Memorial Tree on this planting day. You will also get a personalised plaque to mark your planted Living Legacy Memorial Tree.
You will be assisted by our Living Legacy Forestry Experts and be provided with the Living Legacy Formula that transforms cremated remains into life which then is infused into the tree to aid in growth and create life after life.