The concept of burying a loved-one's ashes under a tree or flowering shrub isn't as straightforward as you may think.
Warren Roberts, founder and CEO of Living Legacy Forest, likens the alkalinity of ashes to caustic soda, saying the pH is so high that it either kills plants or hampers root growth.
"At the moment, most people don't realise that, and so with all good intentions they go into parks and forests and scatter their ashes," he says.
"Imagine if you put 3kg of oven cleaner on a tree. It is in no way good for the tree.
"Even if you put the ashes in a biodegradable urn, the tree survives the ashes by growing away from it, or it just doesn't survive in a lot of cases."
Mr Roberts should know. He spent about two years working with plant pathologist Dr Mary Cole, conducting scientific tests in order to overcome this problem. Their work focussed on transforming donated cremated ashes into micronutrients which are small enough to be absorbed by trees and nourish them.
Mr Roberts says trees planted with donated ashes have thrived over 12 months, so Living Legacy Forest is now proud to be offering the opportunity commercially, allowing "the essence of the person to live on with the power and beauty of nature".
Next month, the first official Living Legacy tree will be planted in Melbourne. The flame tree, to be planted in Fawkner Memorial Park, will provide Dianne Rich with a living tribute to her son, Ashley Townsend, who died in December 2014 at the age of twenty six.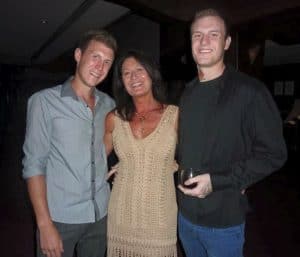 Ms Rich says Ashley was inventive, creative, sensitive and adventurous.
"He was always looking outside the box for things to do," she says.
"If there was anything other people would be cautious about, he would do it. He loved life to the extreme.
"He was the most amazing, caring person. With his charismatic personality and witty humour he loved making people laughed and always appeared happy, however he suffered depression for many years."
Ms Rich says before Ashley died, he made it clear he didn't like cemeteries and he didn't want to be buried. Although she insisted she would be the first to go, he said "just in case, don't ever stick me in the ground with a rock on me. I want to be free."
After his death, Ms Rich struggled to know what to do with his ashes.
"It had to be something unique that would have made Ashley smile."
She and Ashley's brother Sam booked two private balloons for family and friends to ride at sunset, so they could scatter half of his ashes over Melbourne.
But they also wanted some of Ashley's ashes to be located somewhere they could visit to have peaceful times thinking of him.
Ms Rich got a step closer to a solution while visiting Melbourne's Fawkner Memorial Park with her mother. She discovered a beautiful parkland section of the cemetery that had a lake, shrubs and boulders, rather than gravestones. She asked whether she could plant a tree for her son, and was put in touch with Living Legacy Forest.
"When I told Sam about it, we just knew it was the right thing," she says.
"It gave us absolute peace."
They liked the idea that Ashley would become part of a living tree and that it could also be infused with up to four people's ashes over time. Along with Ms Rich's mother, have decided they would like to join Ashley and nourish a new kind of family tree.
Ms Rich and Sam were also impressed that the Living Legacy concept also included other planting. Based on the idea that we consume oxygen produced by about 100 trees over a lifetime, Living Legacy plants an additional 200 trees in locations affected by deforestation both locally and abroad. Ms Rich and Sam have opted to have trees planted in forests along the Great Ocean Road and in Borneo rainforests where orangutans are endangered.
Mr Roberts says loved ones can opt to make an additional purchase of trees, rather than purchasing flowers for the funeral – something Sam has opted to do with the donation of an additional 300 trees in Ashley's memory.
Mr Roberts says he is aiming to offer Living Legacy to people across Australia.
The Living Legacy mobile app connects the position of each tree and a photo and written tribute for person they commemorate. It also shows where each 200-tree-reforestation contribution is located.
The Greater Metropolitan Cemeteries Trust CEO Jacqui Weatherill has supported the Living Legacy concept from the outset.
She says cremated remains within the Trust's cemeteries have always been planted in sealed containers near trees, because of their toxicity, so there was great interest in the new concept. The Trust supported Living Legacy's trials and is now proud to be promoting it as a world first.
"We know lots of families are more interested in the spiritual side of life and so community interest in green options and new ways of memorialisation is really high. It is more attractive to some people than being interred in a grave or in a wall.
"This initiative allows us to do something new in the cemetery space and for families to have generations of loved ones all put into the one tree."
On a personal level, Ms Weatherill says she and her family are among those who prefer burial over cremation for religious reasons. That said, she has still enjoyed thinking about what kind of tree she would like to become part of.
"If I was going to be cremated, I would use Living Legacy and I would choose to be a lemon scented gum."